Tucker was AMAZING!
June 5th, 2018
Tucker, you were absolutely amazing, and the kids loved you! Your teaching style kept them focused and allowed them to maximize their learning and retention. We would love to have you back in the future! Thank you so much for your time and expertise!
Thank you for this precious opportunity!
June 4th, 2018
Thank you for this precious opportunity! My son loved it, and he found Clark Burckle to be very personable and helpful. Clark is a fantastic role model for the kids, and he trained them in a non-stressful way. The best part is that my son got more excited about swimming afterwards, and planned to show off his water bottle with Clark's signature on it. Thank you!
A Special Moment with Connor Jaeger!
June 4th, 2018
My child had a nice moment with the instructor (Connor Jaeger) during a correction. It was great because as soon as my child completed the objective correctly Jaeger acknowledged it and supported him. I then saw my child smile mid stroke in the water. Jaeger stoked his confidence and you could see that my child felt this.
I myself enjoyed the demonstration of scapular protraction and retraction that the instructors taught (Jaeger & Beidler). The students, coaches and some parents also tried it. The more anatomy the better!
We were grateful to the instructors for their patience and coming with an open mind and sharing advice about their lives during the Q&A.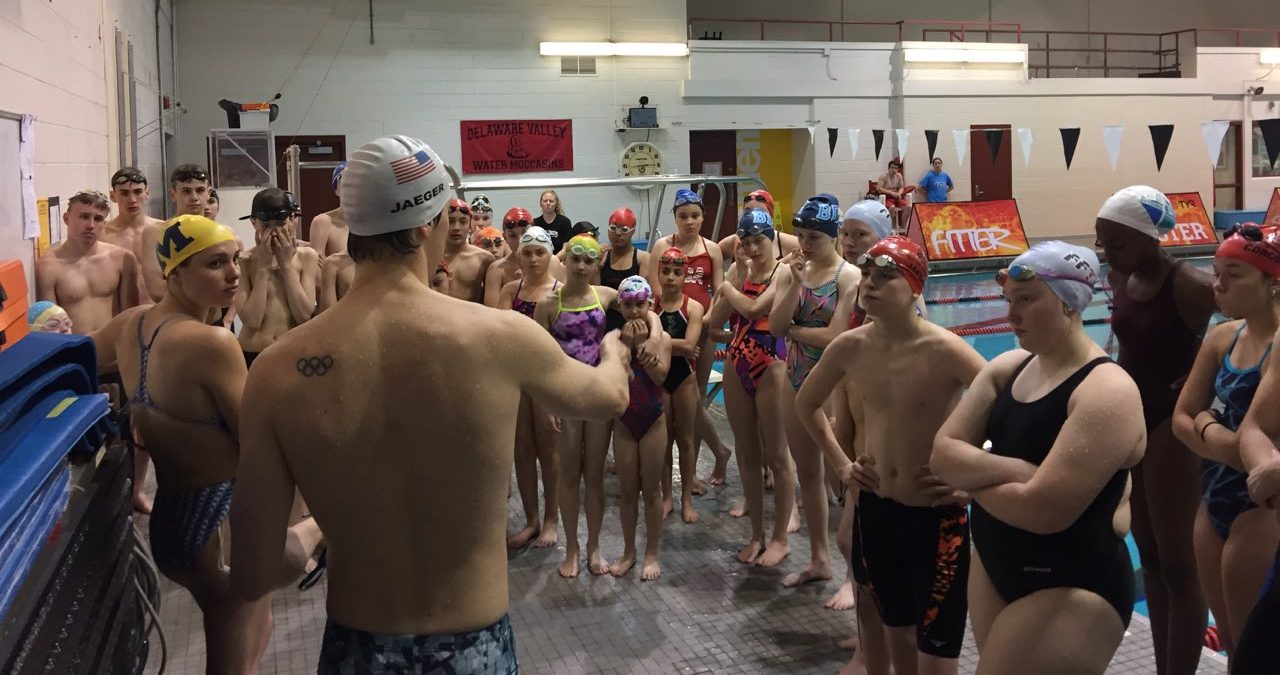 Kelley in Paris, KY Loved Claire Donahue!
June 4th, 2018
Claire Donahue was amazing with the kids, she took the time to really explain and make sure they understood each drill. She also explained the importance of a healthy lifestyle not just in the water but outside of it as well. She was very down to earth and relatable.
Sara in El Dorado, AR
May 29th, 2018
What skill or advice stuck with your swimmer the most?
The best story Connor [Jaeger] told was about how he wasn't some teenage phenom like Michael Phelps or Missy Franklin. He got to college and realized he had a lot of competition and work to do to get better. Some teenage swimmers need to be reminded that it is worth all the work and there are many reasons to stick with swimming.
How would you describe a Fitter and Faster Clinic to others? 
It's like getting a back stage pass to a rock concert only, it's the swim world rock stars! You get to "go backstage " as it were, and get swag, met the star, get a picture with them, swim with them and most importantly ask them how they did it. You get lots of time with them and they clearly want to be there, so it's a good experience all around.
Participant in Oak Forest, IL
May 29th, 2018
Clark Burkle was great. He kept the kids interested, was very positive and had a lot of energy. He seemed to really want to be there and was enjoying himself. He would describe a drill in detail, he would perform it twice and then let the kids do it. He was giving TLC to a lot of swimmers who were struggling with it. The high fives and fist pumps were cool and the shaking of the hands with the kids after he raced them meant a lot. I think he has created some new breaststroke fans.
Ashley in Mexico, NY
May 29th, 2018
I thought it was great! I learned alot. My starts improved imediately. Chloe Sutton explained everything very clearly and helped everyone. I would recommend a Fitter and Faster swim clinic to anyone. I loved the swim clinic and hope to go to another one soon.
Alice in Oak Forest, IL
May 21st, 2018
Clark [Burckle] was GREAT! My daughter learned a lot and cannot wait to implement it in her training. Clark was good with the kids and I thought he explained everything well.
My daughter is 9 years old and was very excited to attend her first clinic. It exceeded both our expectations. I'd recommend Clark as a clinician to any swimmer that was going to do a Fitter & Faster clinic!
Aliya in Arlington, VA with Bruno Fratus!
May 21st, 2018
Great event! My son loved learning about the swimming technique, but also the fun part of the event – racing against Bruno Fratus! F&A was also great, hearing from the Olympic swimmer about his routine, diet, how it all started. Overall, it was a fantastic experience. Thank you so much for organizing it.
Review from the Clinic in Mexico, NY – "I thought this session was awesome!"
May 14th, 2018